by admin on Oct.01, 2012, under Spanking Interviews
It looks like I am not going to get much feedback about starting a new site, so I am on to a new post.  I put up a new Spanked Sweeties recently and have been anxious to write about it because it was such an unusual shoot.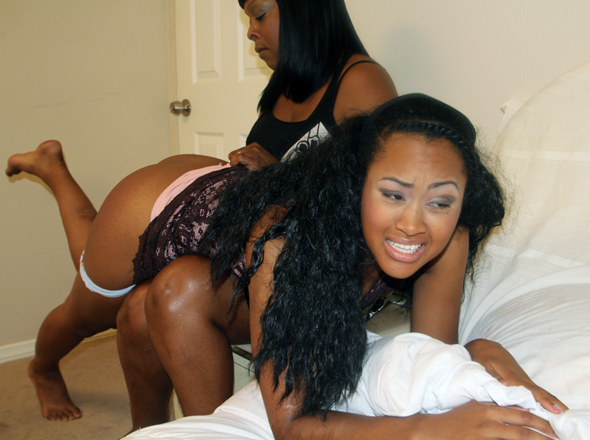 Would you spank a good friend's daughter?  I can think of some situations where I might be able to do that, and others where it would be VERY awkward.  But Lana Miller is as game as they come.  She has spanked her niece Mandee Miller (who she raised like a daughter) for our sites.  And she has spanked her cousin Michele, who played Mandee's sister.  And Lana has another niece who just turned 18, and Lana helped to raise, who she is now pitching to me for another Sweeties.  Amazing.
So when Lana emailed me to tell me that she has a good friend (female) who has a daughter who wants to do some modeling, and was spanked growing up, I was intrigued.  She sent me pictures and Rihanna was quite beautiful.  What could I say?  Yes, of course.
Upon arriving, Rihanna expressed how nervous and scared she was.  She likes playful spanks in her real life, but she admitted to having a low pain tolerance.  Lana was not going to take it easy on her, so we decided to keep the spankings real, but limit how many Rihanna would take.
The way the Spanked Sweeties site works is, there is a brief interchange (a week or so in advance) with a model to establish if she was spanked growing up, and if mom or dad were the primary spankers (or sometimes they talk about aunts, uncles, babysitters etc).  Typically models provide very little info before we shoot.  All I knew going into this shoot was that Rihanna was spanked by her mom.  And for some reason I had the impression they were all spankings.
The shoot took place at Clare Fonda's house (Rihanna shot a diaper scene for Clare in exchange for me using Clare's house for this shoot).  Rihanna shocked me (despite warning her that we would re-enact her childhood spankings) but talking about how her father also spanked her and he used a belt.  And she talked about how her mom not only spanked her with her hand, but also used to chase her around and spank her with a wooden spoon.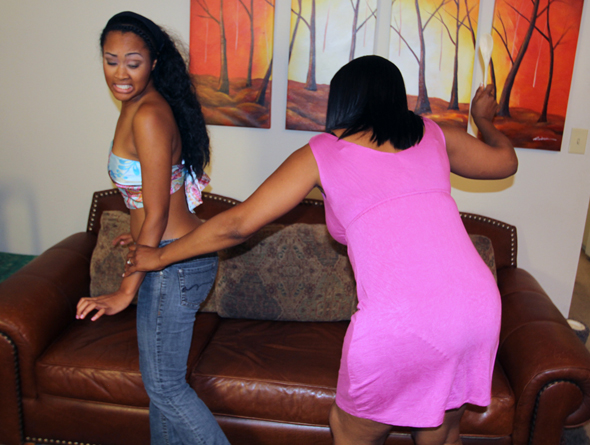 Not being prepared for this, I was fortunate that Clare had a belt and a wooden spoon I could borrow for the shoot.
When Lana began spanking Rihanna for the first scene, she didn't react much.  But then she cut to say how painful this was.  Lana explained that it was all right to react to the pain, she didn't have to hold it in.  After this it went more smoothly as Rihanna felt free to kick and whine.  Which she admitted was how she always reacted when she got spanked but for some reason thought she should hold it in.
Rihanna had to cut a few more times – notably during the dad belting, which doesn't look that hard, in my opinion, but was more than Rihanna could take.  We had to negotiate a final number of whacks that she could take with the belt after she cut (don't worry there is no counting).  I think as sometimes is the case, that it didn't just hurt physically, but it also might've been bringing up some painful old memories and that is why the belt was too much for her. Or this could just be me over-analyzing and maybe the belt just really hurt her ass.
After Lana's first spanking, then the dad spanking, then the wooden spoon spanking, Rihanna was past her tolerance limit and was walking around in extreme pain.  Despite having dark skin, her butt did get red (and there was hard to see speckling).  She stood up between scenes because she said it was too painful to sit.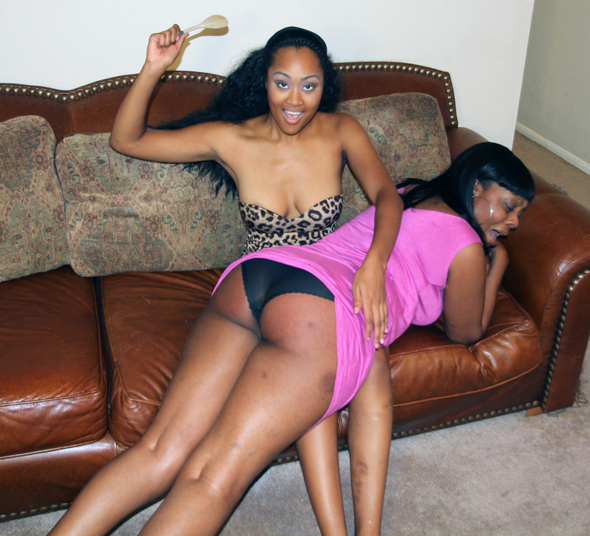 We had a little time left for our shoot, and Rihanna was begging to spank Lana.  Graciously, Lana agreed to it, and even tutored Rihanna, who couldn't spank Lana hard enough with her hand (though some of the whacks looked really, really hard).  Someone off camera (won't say who) decided to pass the wooden spoon to Rihanna and that certainly got a rise out of Lana.  It left little white spoon marks on Lana's curvy bottom.
This was definitely a wildly entertaining shoot and it included the added edge of knowing that Lana was spanking her good friend's daughter – which seemed a little naughty.  In a good way it turned out.
:Lana Miller, Rihanna