Tag: Kymberly Jane
by admin on Nov.04, 2012, under Spanking
I realize that Hot Girls Spanked, which is a clips4sale store, is not popular with many of the regular site members.  It is, however, a market that I must use to help subsidize what I do as there are buyers out there who will only buy clips individually and don't want to join sites.  From the start, I have been offering exclusive content on the Clips Store, but I might be reconsidering that soon and offering the same content on the pay sites and clips store, as do most other spanking pay sites.  I will probably start this process in January if I decide it makes more sense.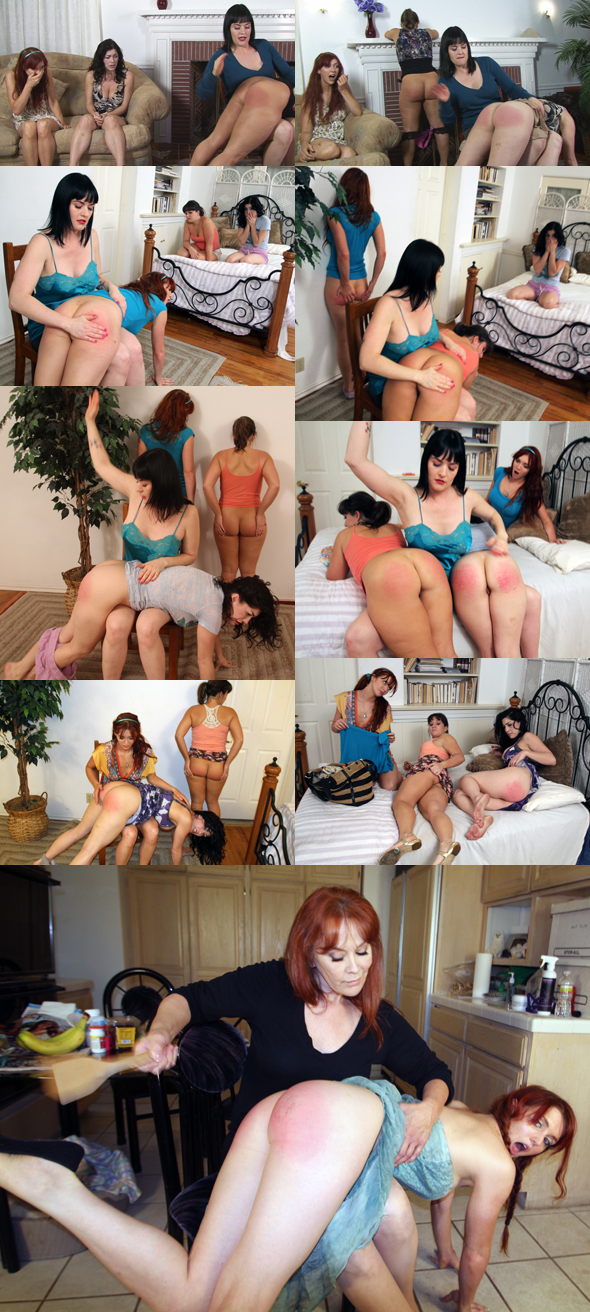 For now, though, those of you who want to see the latest custom epic will need to visit the Hot Girls Spanked clips store or wait a few months until this is available on DVD.  It is called NO FIGHTING and stars many of the regularly requested custom ladies such as Veronica Ricci, Snow Mercy and Kay Richards (also known as Kymberly Jane).
The custom producer also requested a few models who no longer work in spanking, so we agreed to get a bubble butt model named Cami Smalls to fill in the final slot, as Kay's sister.  They are spanked by young mom Snow, while their friend Veronica watches on, laughing all the while.  Later, of course, Veronica finds herself over Snow's knee as well.  And then she spanks Kay and Cami.  Kay and Cami spank each other. And finally, Veronica's own mom, played my Mistress Crystal (who also plays her mom on the sorority site), finishes the epic with a hard spanking to Veronica's already tender bottom.
Veronica is requested in virtually every custom request that comes my way.  Kay is a close second, followed by Snow.  I suspect this is because fans are aware of how these ladies combine beauty with curvy bottoms, ability to give and take spankings and excellent acting skills.
Veronica and Kay will be starring in another custom that I am shooting pretty soon.  Along with Syren De Mer, who will be playing their governess.  It should be a good one and I think it may end up being the test pilot of the first scene I put on one of the pay sites along with the Clips4Sale store.
11 Comments
:Cami Smalls, Hot Girls Spanked, Kay Richards, Kymberly Jane, Kymberly Jane Spanking, Snow Mercy, Veronica Ricci, Veronica Ricci spanking
more...
by admin on Jun.05, 2012, under spanked call girls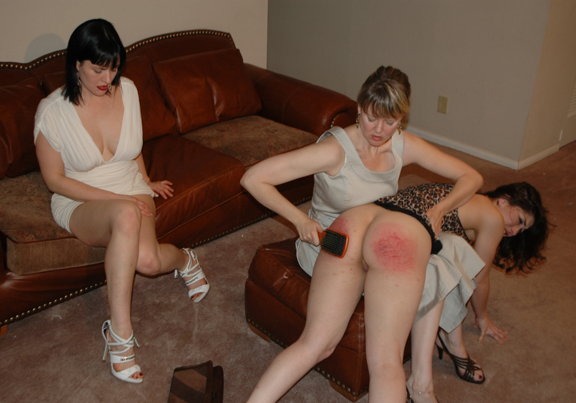 Clare Fonda's last spanking scene is now up on Spanked Call Girls.  In this scene, she tutors Snow in the ways of spanking (well her character that is, of course Snow is already an expert spanker).
Clare demonstrates by spanking Kay Richards (aka Kymberly Jane) and then she has Snow use the hairbrush on Kay.  Kay can take a super hard spanking, but her limits were definitely tested in this scene.  She was practically crying and she got even more speckled then she usually does.  She later confessed that she wanted to cut but her desire to be a trooper won out and she took more than she really planned to.
The scene ends, appropriately, with Clare spanking Snow.  The plan now is for Snow (and Lana) to be the madams on this site and often administer discipline to the wayward call girls.  And Clare's character has "gone off to Europe" so who knows, maybe there will be the occasional cameo call to Clare for advise.  One can only hope Madam Clare will have some long distance minutes available on her cell!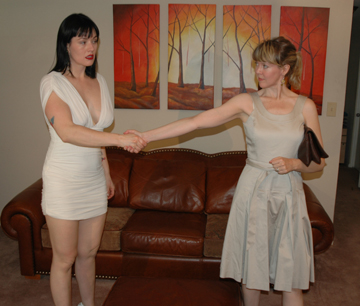 4 Comments
:Clare Fonda, Kay Richards, Kymberly Jane, Snow Mercy
more...