Tag: Miss Claw
by admin on Jun.03, 2012, under spanking soap opera
The last couple of episodes on My Spanking Roommate included a few niches.  Some have come via viewers suggestions, some come from what the models just happen to wear or improv about during a scene.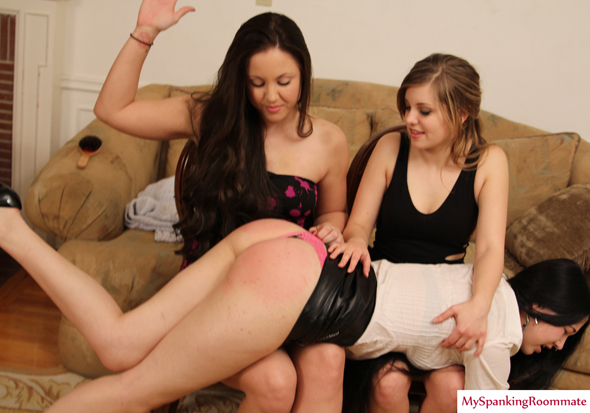 Episode 107 included one girl (the new Miss Claw) going over the laps of two others (a popular request).  In this case, it is Madison Martin and Missy Rhodes.  In the scene, they are both getting revenge on Miss Claw for either spanking her (in Missy's case) or being responsible for Madison getting a spanked.  Both girls had to sit on their sore bottoms (another popular request) to spank Miss Claw otk (which has consistently been the favorite fan spanking position).
Miss Claw wore a tight, short leather skirt (her winning choice) and Madison and Missy were both wearing short skirts so that we could see their legs as well.  They used the word "spanking" often during the scene (a wildly popular choice).  Lots of long hair, hard spanking, good reactions.  Hope to use Miss Claw a lot more.  She is young (only 19) but is very experienced (she works at Sanctuary LAX) and mature for her age.  They spanking Miss Claw with their hands and with the always classic hair brush.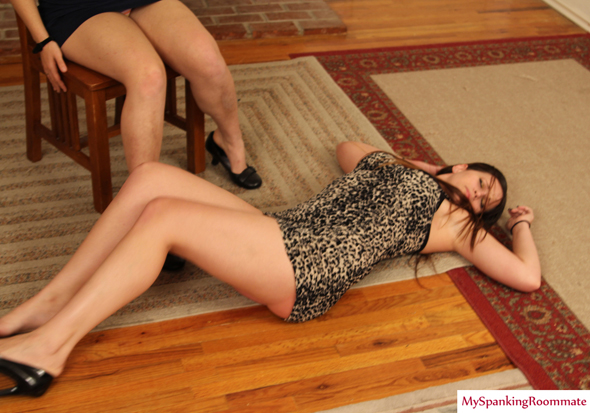 Another popular scenario is for a drunken girl to get overpowered by a smaller girl, only to have her drag her over her knee for a spanking.  In the current Episode 108, Mary Jane plays the drunken girl (so convincingly you would think she must have some experience at this).
Mary Jane even risked her ass by literally falling off Lilia's lap and landing so hard on her curvy bottom that the second camera (which was on a tripod) shook.   Mary Jane wore a skin tight short dress that she almost needed help getting into (her excellent choice).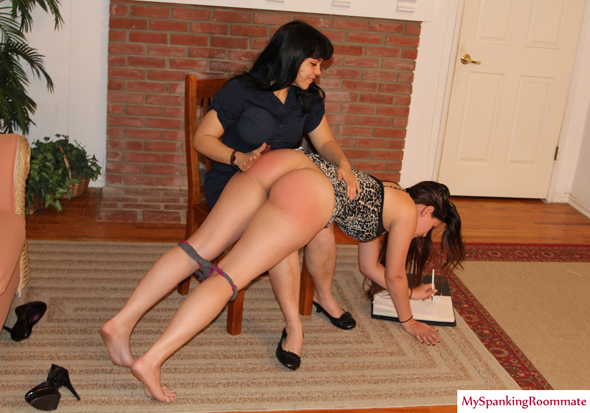 And a last popular niche was having Mary Jane forced to sign a lease while she is getting spanked.  Hey we listen to fans when possible for suggestions we can incorporate into scenes.  These two episodes included some fan input.  Scenes being shot presently (that will appear in the future on various CF sites) will  also include the occasional fan suggestion.
I hear you guy who likes to have a girl embarrassed while a friend watches her get spanked….
10 Comments
:Lilia Spinoza, Madison Martin, Mary Jane, Miss Claw, Missy Rhodes, My Spanking Roommate
more...
by admin on Mar.24, 2012, under spanking soap opera

Here is an interesting behind-the-scenes tidbit.  If you check out the latest episode (103) now up on My Spanking Roommate, you will see Veronica Ricci getting spanked by Alexis Grace.  Which is cool.
And she is calling her roommate Missy Rhodes while getting spanked.  Which is even more cool.
And after the call, Missy gets spanked by a new character named Miss Claw, who is playing her acting coach.  All this is, as I say, cool.
But what is crazy interesting in my opinion, is that Veronica actually called a friend while she is getting full on spanked hard with a hair brush by Alexis.  Veronica was yelping and moaning and trying to explain (in character) how she has to kick Missy out of the apartment so that Alexis can move in.  And she explains how she is getting spanked hard.
This phone conversation goes on and on, and her friend that she really called had no idea what was going on and was worried something crazy was happening in real life to Veronica.  I think it took Veronica a long time the next few days to explain what that call was all about.
1 Comment
:Alexis Grace, Miss Claw, Missy Rhodes, Veronica Ricci
more...