Tag: Spanking Cassie Ramone
by admin on Mar.03, 2013, under Spanking
Cassie Ramone is a cam. model who shot her first spanking scenes for our sites.  There is an interesting story about this shoot.  A fetish producer I know recommends models from time to time and had mentioned that he liked working with Cassie.
I scoped her out on her twitter and she seemed perfect for spanking shoots.  So I direct messaged her and planned a shoot with her and Madison Martin.
Madison has had some driving issues recently (will save that for another blog) so at the last minute Madison bailed as she couldn't get to the shoot (her ride fell through and she lives VERY  far away).
So who do I call?  Veronica Ricci of course. Dah. Veronica bailed me out at the last minute and agreed to do the shoot.  But there was something strange going on at the set.
Apparently Veronica and Cassie already knew each other. They said that they would tell me how they knew each other some time and that is was kind of a funny story.  But they never did tell me.  So it is a bit of a mystery.
But they seemed very friendly (so I figured they knew each other in a good way). On the other hand, they did spank each other really, really hard, but they both seem like gamers who give their all in scenes, so I didn't read anything into that.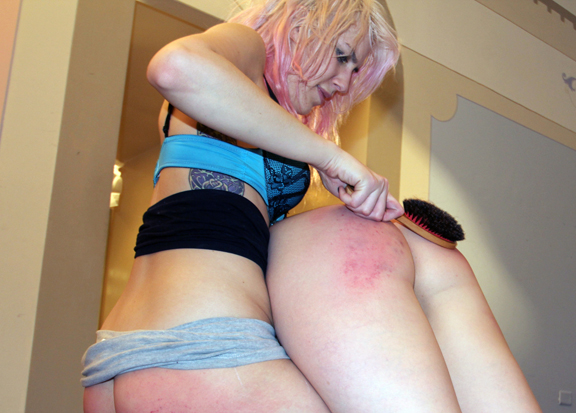 Cassie Spanks Veronica to try to get her to stop smoking
In any case, you GOTTA  check out their scenes from that chance meeting.  Cassie spanks "old whore" Veronica for smoking for the scene now running on SPANKED CALL GIRLS.  Then Veronica turns the tables and spanks Cassie even harder.
For Veronica's new site, SPANKING VERONICA WORKS, Veronica spanks Cassie as a hired SWAT agent, who spanks cheating girls. Veronica spanked and paddled Cassie so hard she was marked for days, Cassie later reported (sorry, Cassie). And Veronica also used a strap-on on her.  Veronica also said she was marked for days from this shoot.
The girls were electric together.  I have plans to use them together again if they are game. Maybe they will even tell me how they knew each other before shooting for the first time.
Veronica blogged about the Works scene. with lots of photos, so check that out.
7 Comments
:callgirls spanked, Cassie Ramone, Spanking Cassie Ramone, spanking Veronica Ricci, Veronica Ricci
more...