Tag: Spanking Sarah Gregory
by admin on Aug.14, 2013, under Spanking
This will be my first time going to Fetish Con in Florida.  I leave tomorrow.
Many models I have shot with before will be there, including Paris Kennedy, Sarah Gregory, Veronica Ricci, Kymberly Jane, Alexis Grace, Addie Junniper, Anastasia Pierce, Sinn Sage, Stevie Rose, Briella Jaeden and many others I think, too.
I will try to shoot with as many new models possible.  I already have some shoots scheduled with newbies and I'm very excited about this trip and meeting all these wonderful models.  Gotta love my job this week, right?!
I have set all the sites to update remotely, except for Girl Spanks Girl, which is the only site I update manually anymore. So I put all the updates for the next 6  days up today for that site.  The other sites will update on their usual days.
I will blog about my experiences there when I get back and promise lots of photos and exciting new models for the sites!
6 Comments
:Fet Con spanking, spanking Briella Jaeden, Spanking Sarah Gregory
more...
by admin on Apr.28, 2013, under Spanking
It has been a while since I have interviewed a model and I need to start this up again.  Maybe Christy Cutie, who I am shooting with this week, would be a good candidate.
I always love working with Christy. She has become a good spanker as well as (many of you know this) an outstanding bottom.  She can take an incredibly hard spanking and continue bratting off all the while, until on the rare occasion, she actually cries real tears.  She is cute with a nice bum, and so sweet when she's not being bratty.  What's not to love?
In the current episode of Spanking Sorority Girls, Christy is getting spanked by Sarah Gregory as the scene leading up to the big initiation scene.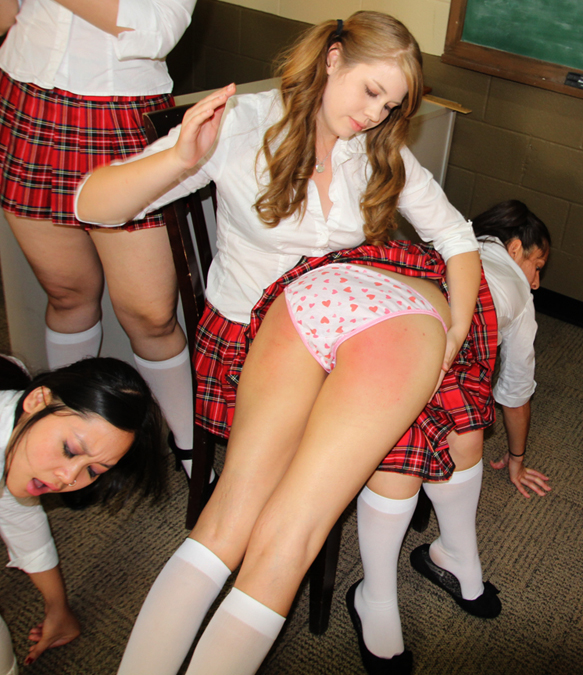 On Wednesday, the same day we are shooting with Christy and Veronica Ricci,  the epic initiation scene with 9 pledges getting spanked and paddled will debut.  Snow Mercy plays the teacher and Sarah Gregory the senior sister.  After the pledges take turns spanking each other, Snow and Sarah dish out whacks with a large pledge paddle.
I will blog more about this big production later this week.  Of course Christy is one of the stars, and the pledge who gets the most whacks with the paddle!
10 Comments
:spanking Christy Cutie, Spanking Sarah Gregory, spanking Veronica Ricci
more...