by admin on Oct.28, 2010, under spanked girlfriends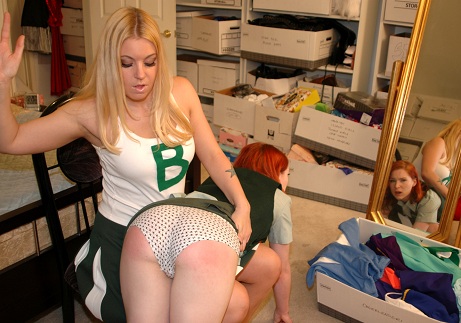 As Halloween approaches, here is the question – do we like our ladies wearing sexy costumes when they are spanked?  Some people seem to love the sexy costumed spankings.  Others think they are too cutesy and don't have a place in the spanking biz.  I say it's all good. 
If you are into spanking, there has to be some time when you imagined (or actually witnessed) a cheerleader or a girlscout getting spanked.  Well, in the current My Spanking Roommate episode, you can see both, as Sophie Nova (the girlscout) and Hollie Stevens (the cheerleader) spank each other. 
They were each allowed to choose their Holloween costumes for this episode, and it seemed to fit their personalities in what they selected.  Sophie seems like a very good and wholesome girl, while Hollie seems to dance on the wild side (like the Cheerleaders in "naughty" movies always seem to do).  This was a long scene, with all kinds of good stuff, including spankings in front of a mirror. 
As for both girls wearing green, Sophie had no choice as girlscouts are always in green.  But Hollie had many different colors to choose from, but she wanted green (her favorite color?) and she liked the idea that they were both the same color.  From Hollie and Sophie, have a Happy Halloween and may all your favorite hotties get tricks or spanking treats.
:costumes, spanked cheerleader, spanked girlscout