Tag: Veronia Ricci
by admin on Dec.21, 2012, under Spanking
Well Christmas is getting closer.  And while in my personal life, Christmas is usually sad, never has anything to do with spanking, business is a little slower, traffic is bad and I transform into some sort of combo of the Grinch and Scrooge, I still like to celebrate with the site members by sharing a few Christmas episodes.  No "bah humbugs" for you guys.
In the above photo, Kay Richards poses with Sierra Salem in what was Sierra's last ever new spanking scene, which appears on My Spanking Roommate. Sierra had a nice run as a spanking model and was very popular for a few years.  But like so many others this year, she walked away from the biz.
Also of note, this is Clare Fonda's second last new spanking scene that you will ever see (her New Years episode is still coming for you Clare fans).  The ladies had fun on this shoot, but did deliver some hard spankings, too.  At the time of the shoot, no one realized the significance, of course, so it was just another shoot – but a good one, with a nice Christmas vibe around the set.
The above photo is from Spanking Sorority Girls, and has Veronica's mom (played by Mistress Crystal) spanking her hard.  Veronica Ricci has a really high pain tolerance, but she did have to cut once during this scene.  Crystal (as Veronica's mom) is a pro domme and spanks really, really hard.  We didn't really allow for a warmup – just started with the hard spanking – hence the one "cut."  Merry Christmas, Veronica if you're reading this.  It is a long scene, so it really gets going and Veronica was a super trooper on this one.
Koko Kitten, who watches and laughs while Veronica gets spanked, then of course gets spanked, too, is a rising star on our sites.  She can take and give good spankings, is outstanding verbally, and is well, really, really cute and cuddly.  I am mad crazy about Koko and she is becoming one of my new favorites.
Also of note, Veronica got anal beads from none other than Clare Fonda in this episode.  They were very LARGE anal beads and I didn't know how many of them Clare would insert.  I was surprised to discover ALL of them.  The last couple look, wow, giant.  Maybe this is Veronica's Christmas present to all of her fans who enjoy a good anal Holiday.
I do wish all of my blog readers and site members a very Happy Holiday!  Working on the sites is a great way for me to power through my own Holiday situation.  It's like I am close to all my friends (even if it is only on my computer) like my blog readers, Clare, Kay, Koko and Veronica.
Also shout-outs to Snow Mercy, Alex Reynolds, Christy Cutie, Nikki Rogue, Missy Rhodes, Ten Amorette, Ashley Rose, Audrey Knight, Lana, Genesis, and Sarah Gregory – it's been a great year my friends!!
7 Comments
:Clare Fonda, Kay Richards, Sierra Salem spanking, Veronia Ricci, Veronica Ricci anal, Veronica Ricci spanking
more...
by admin on Apr.14, 2012, under Spanking, spanking sorority girls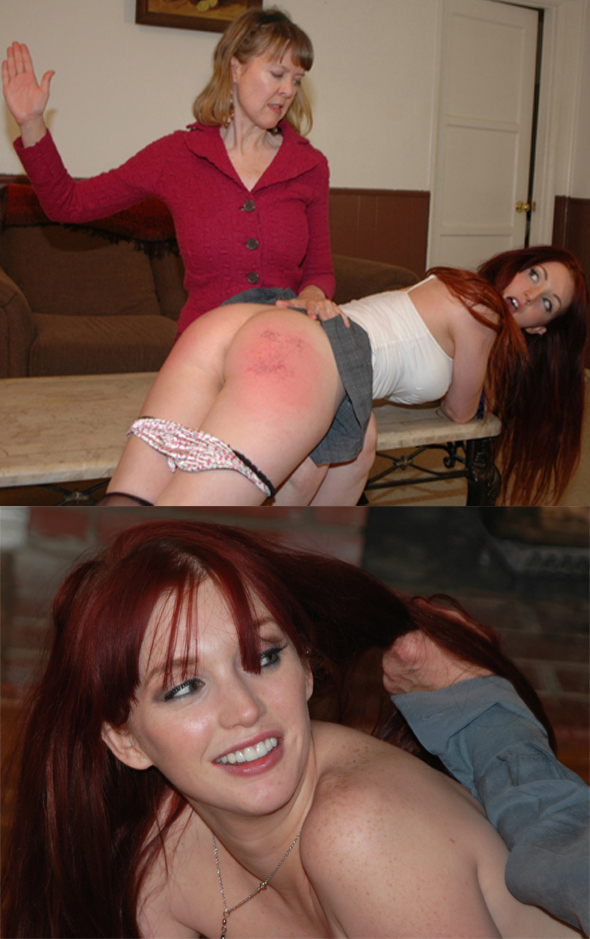 It is Veronica Ricci's birthday today.  So in our minds, lots of us can be giving her birthday spankings.  There is this uncanny alignment of near cosmic forces happening today that would've been really cool if they did line up.  Let me explain.
Veronica first shot with us on April 19, 2011, for Spanked Sweeties.  See the photo above of Clare Fonda giving Veronica her first ever adult spanking, playing her mom (who spanked her often when Veronica was younger).  Shoot, if we'd known before booking her what her birthday was, we could be saying how we shot Veronica getting spanked on her actual birthday.  Happy almost one year anniversary on our sites, Veronica.
The Spanking Sorority Girls site, which stars Veronica, opened one day before her birthday.  That was really close to lining up. The photo below the one with Clare spanking Veronica, was a behind the scenes photo taken while her latest "adult mom" – Mistress Crystal – was spanking Veronica for a scene for the Sorority site.  Mistress Crystal really looks like she could be Veronica's mom.  And I'm sure she spanks WAY harder than her real mom ever did.  In this scene, she catches Veronica masturbating.  She spanks her otk with her hand, then gives her a hard belting that left some wild marks.  But in this photo, Veronica was smiling while Mistress Crystal gave her a hair a nice pull.  Hmmm, maybe we now know something Veronica likes.
Veronica is working on starting a blog, which of course would've been amazingly cool if it had started on her birthday.  But not quite ready yet.
And lastly, what would've been a truly fantastic alignment is if somehow Veronica could've been worked into the very last spanking shoot that includes Clare Fonda, which is taking place today, on Veronica's birthday.  In a little while.  In fact I need to finish this blog pretty soon, take a shower and get over to Clare's house on time.  I will do a big blog or two in the next few days about this shoot and what it was like working with the magnificent Clare on spanking shoots.  She will not be doing spanking shoots after today, but will still be delivering lots of great fetish content (just non-spanking) and still will be consulting on the sites for a while.
So there they are – a series of near amazing alignments.  Happy birthday Veronica!!
1 Comment
:Birthday Spankings, Clare Fonda, Mistress Crystal, spanking sorority girls, Veronia Ricci
more...