Tag: DVDs
by admin on Sep.10, 2012, under Spanking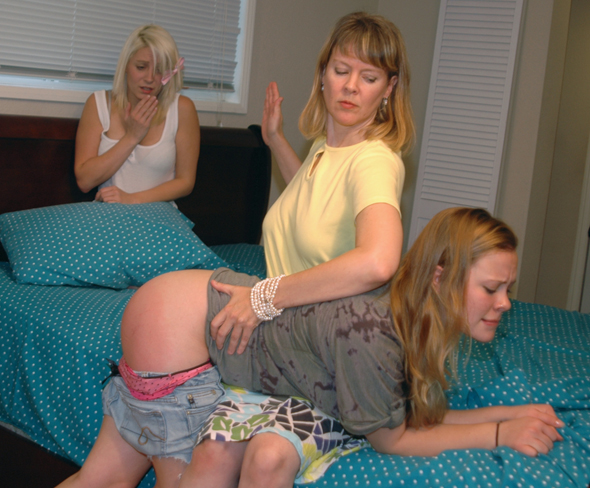 Three new DVDs are being offered this week, for PURCHASE.  They include Exclusive Education Year 4 (which means Years 1 to 6 are all available on DVD now), NEVER TOO OLD TO BE SPANKED, which includes a new intro from Veronica Ricci in which she sets up all of the spanking scenes including three sisters, Veronica, Kat and Stevie Rose who get spanked by their mother (played by Clare Fonda of course) and Veronica even spanks her mom twice because you are really never too old to be spanked, right?
Clare of course was one of the all time great mom spankers (though she really looks young for a mom).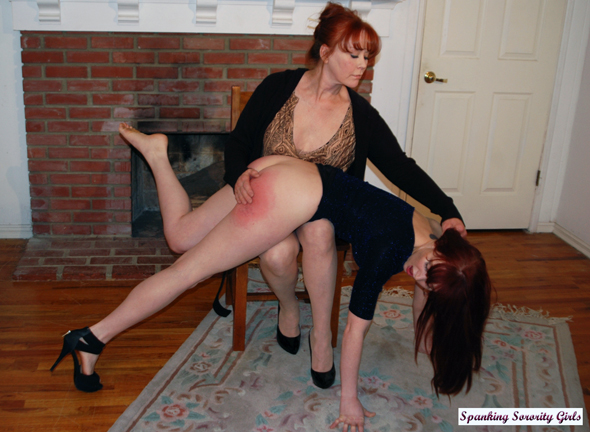 This new set is completed by Spanking Sorority Girls – Veronica's Intro.  It includes Veronica getting spanked twice be her mother (played by Mistress Crystal) and getting spanked by the head of the sorority she joins (played by Roxy Jezel).  Any time you ask Veronica what the hardest spanking she ever received was, she always points to this scene with Roxy.
And of all of the mother/daughter spanking scenes I have shot or watched, I have never seen one that tops the first spanking Mistress Crystal gives Veronica as her mom.  Crystal looks very much like Veronica's mom, a tall red head, and delivers a very real and very hard spanking.  Veronica's reactions are incredibly real in this stern spanking.  A must for collectors of mother/daughter spankings.
Leave a Comment
:DVDs, Veronica Ricci
more...
by admin on Dec.10, 2011, under Spanking

The above photo is part of a scene currently running on Spanked Call Girls.  It was one of the hardest spankings Veronica Ricci ever received, she said, and she had to cut when Jenni Mack was spanking her.  It is also included in a DVD called Spanked Call Girls, Vol. 1: Audrey Tate.
The plan is to create a website to sell Clare Fonda DVDs.  But until that happens, there is a way to get the following DVDs (all of which are at least 60 minutes long). 
Simply send a check or money order to:
CF Worldwide, Inc
4821 Lankershim Blvd, Suite F289
North Hollywood, 91601
$25 per DVD or three for $70. Please include $5 for domestic shipping and $10 for international shipping
1.  Exclusive Education 6 – Stars Lana, Snow Mercy, Veronica Ricci and Lilia Spinoza – 63 minutes (available on www.girlspanksgirl.com) 
2.  Strict Cousin- Stars Alicia Panettiere, Mary Jane, Ten Amorette and Clare Fonda – 92 minutes (available on www.girlspanksgirl.com)
 3.  Family Spanking Scandal – Stars Snow Mercy, Sophia Locke and Ashli Orion 67 minutes (available on www.spankedcallgirls and www.spankedsweeties.com )
4. Missy Spanked to Tears- stars Missy Rhodes, Veronica Ricci, Snow Mercy and Clare Fonda 1 hour and 53 minutes (available on www.hotgirlsspanked.com)
5. Women Spanking Men Vol. 1  – stars Miss Chris, Audrey Knight, Mary Jane, Kade, Tom Byron, Ace and Bart 62 minutes (available on www.clarespanksmen.com )
6. Mom Spanking Journal – stars Ash Hollywood, Alexis Grace, Shay Golden and Clare Fonda. (Available on www.spankedsweeties.com and www.hotgirlsspanked.com )
7. Lesbian Sugar Momma – Stars Kay Richards, Madison Martin. Clare Fonda and Veronica Ricci (Available on www.girlspanksgirl.com and www.hotgirlsspanked.com )
8. Men Spank Clare – Clare Fonda, Steve Fuller, Kyle Johnson, Kade and Ace  – 62 minutes (available on www.hotgirlspanked and www.spankedsweeties.com ) 
 9. Spanked Superheroines – Snow Mercy, Alexis Grace, Mary Jane, Sophia Locke, Clare Fonda -63 minutes Snow Mercy looks the part as Wonder Woman. Lots of hot catfighting, special effects and good spankings (also available on www.hotgirlsspanked.com ) 10. Spanked Callgirls Vol. 1: Audrey Tate – stars Veronica Ricci, Kay Richards, Jenni Mack, Miss Chris and Clare Fonda  – 63 minutes (available on www.spankedcallgirls.com) 
9 Comments
:DVDs, dvds of Veronica Ricci spanked, spanking
more...