Tag: girl scout spanking
by admin on Oct.19, 2012, under Spanking
Just got back from a nice trip to a cabin in the woods where I filmed LOTS of spankings with Veronica Ricci and Ashley Rose.  Most will be for a new site starring Veronica and lots of her sexy and spankable friends along with many of our regulars, too.  Below is a pic of Veronica and Ashley posing for behind-the-scenes in the woods.  I assure you that there was plenty of LOUD and hard spankings going on right out there in nature.  So you can look forward to seeing those scenes in the near future.
The new site is not yet named but it will involve Veronica trying out different jobs – that sometimes end up with her making out with another lady, but ALWAYS end up with lots of hard spankings and juicy red bottoms.
Veronica and Ashley were very adventurous out in the woods. Our biggest concern was that a ranger would ride up and fine us (or even try to arrest us for indecent exposure?).  Veronica had a hunch that if someone did discover us, he would be a fan of the sites and want an autograph.   Ashley volunteered to autograph his ass.  With blood.  Her own blood. Since Veronica spanked her so hard she bled in a few of the scenes and had some blood to spare.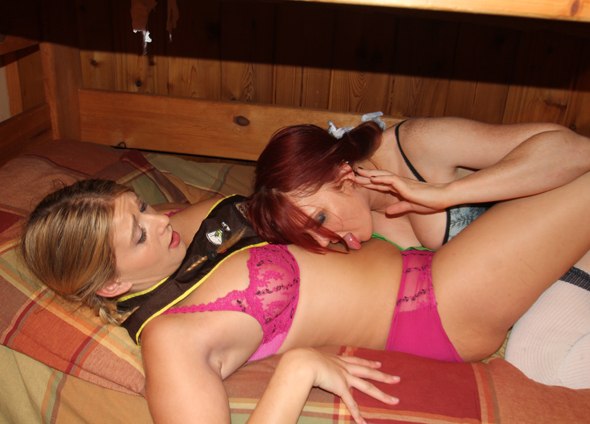 Above is a photo for the scene we shot (13 scenes total were shot in 3 days) that will appear the soonest.  It is an erotic scene for Girl Spanks Girl.  All of the scenes we shot were created and directed by Veronica, though Ashley had considerable input in a couple of the scenes (not this one – this one was ALL Veronica aka V-dog which we started calling her on set after this scene).  Veronica plays a girl scout predator – and she came up with this naughty line – which she tells Brownie Ashley – "Girl Scouts sell cookies and eat brownies."  Ashley (the Brownie) tries to resist and ends up spanking Veronica.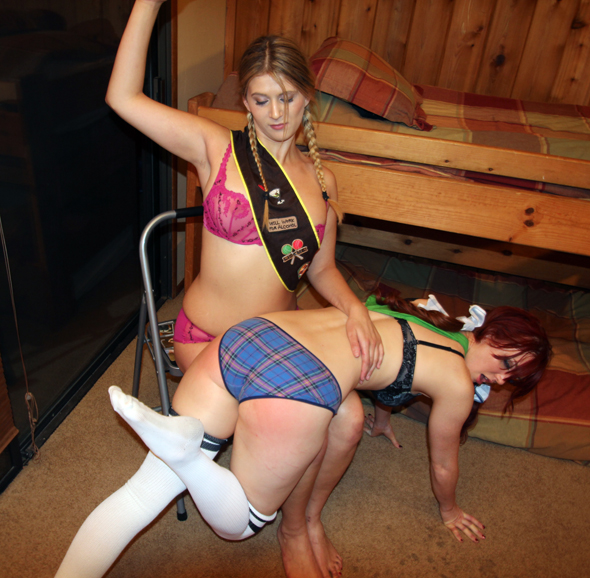 But Veronica convinces Ashley that if she wants to get ahead, she will do anything it takes.  What it took was a ride on a strap-on.  This is only the second ever strap-on scene I have filmed.  The first was years ago with a very young Harmony Rose and Dana Dearmond.  I'm not going to lie – this was pretty exiting to film.  I have shot many scenes with a dominant woman doing her thing to a submissive woman, but I'm not sure I have ever scene 100% dominance and 100% submission, which was the balance in this scene once Veronica's character took charge.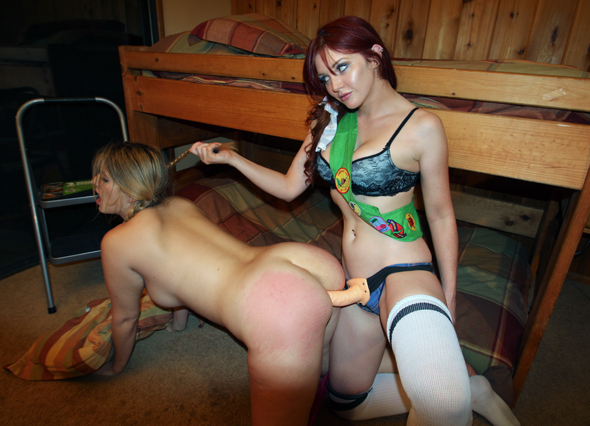 I love how my job takes me to some wild and exiting places.  But truly, it will be hard to top this one.  Check out this scene, which will start next Wednesday on Girl Spanks Girl.  Look for updates on the progress of Veronica's new site.  And please check out Veronica's blog to get her take on this cabin/spankfest.
12 Comments
:Ashley Rose spanking, girl scout spanking, spanking Veronica Ricci, Veronica Ricci spanking
more...