Tag: Halloween spankings
by admin on Oct.23, 2014, under mother/daughter spanking, spanked call girls, Spanking, spanking sorority girls
My favorite holiday for shooting spanking scenes has to be Halloween.  Always sexy costumes involved. The holiday lends itself to mischief and playful, naughty fun – all recipes for spanking. So the sites are LOADED with Halloween scenes all running now, just a week before the delightful day.
First we have the Call Girls scene that finds Christy Cutie meeting our mysterious Elvira model. Elvira spanks Christy for dressing "too cute." Christy also spanks Elvira. It's an excellent scene with some hard spanking from two great spanking models.
And then there is our brand new model – fresh off her Never Been Spanked appearance on Sweeties, playing a naughty girl who dresses too slutty for her mother's taste. So her mother (Fiona) has no choice but to teach the young Elektra Rose a lesson with a long overdue sound spanking.  Ironically Elektra is wearing a skimpy "SWAT" costume on this Girl Spanks Girl  scene.
Next up it's Veronica Ricci playing Freddy Kruger and terrorizing the super sexy Alaina Fox, who gets spanked by Freddy, but uses a spell to spank Freddy too. Some juicy booties here embracing the season and the spirit of a spooky scene for Spanking Veronica Works. And Alaina is amazing as the vulnerable victim who seems about to cry, before channeling her  revenge rage.
Our mysterious Elvira returns on Spanking Sorority Girls, as she decides to spank Koko Kitten and Ludella Hahn for choosing poor costumes for the contest. They team up to spank the taller Elvira right back.
I loved shooting all these Halloween scenes, the models had a great time, and all ended up with very sore bottoms – and no candy. Though I might've had chips available on set.  Maybe next year I'll remember the Halloween candy.
13 Comments
:Alaina Fox spanking, Cristy Cutie, Elektra Rose spanking, Halloween spankings, Koko Kitten spanking, Ludella Hahn spanking
more...
by admin on Oct.24, 2012, under mother/daughter spanking, Spanking, spanking soap opera, spanking sorority girls
Halloween, with its sexy costumes and playful atmosphere, seems like a great marriage for spanking scenes.  We have Halloween scenes for two of our sites.  The Spanking Sorority Girls Halloween scene started running today.
In this scene, Karina, Riley, Kat and Amaya all begin spanking each other because they get in a fight about who should've arranged the party that no one showed up to.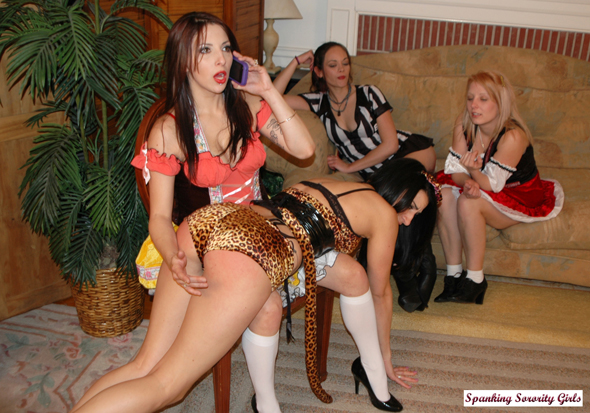 Veronica went home to have a secret party and her mom catches her.  I really believe that Crystal (who plays Veronica's mom) and Veronica make the most realistic and amazing mother/daughter team I have ever filmed for spanking.

The sorority Halloween scene will end with Sarah Gregory spanking Christy Cutie in some excellent costumes that the models brought to the shoot themselves.  Veronica brought hers (she has tons) and the rest were provided by the house where I often shoot (they are loaded with sexy costumes that come with the rental of the house).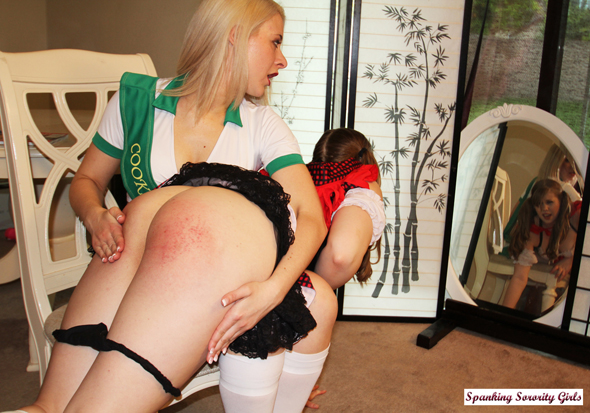 The girls had a blast shooting this Halloween scene.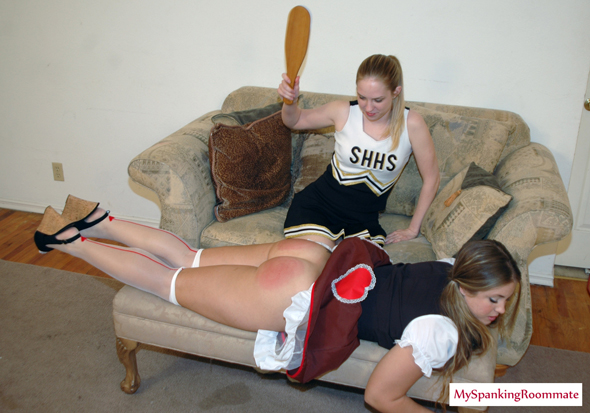 On Friday, My Spanking Roommate will begin a Halloween scene with Madison Martin and Chloe Elise.  This is noteworthy in that as far as I can tell, this will be the last ever new spanking scene released with Chloe Elise in it – as she retired from spanking at the end of last year.  Chloe was a fantastic spanking model and will be missed – but with her own authentic cheerleader costume and her desire to make a great scene – this is an excellent way to go out!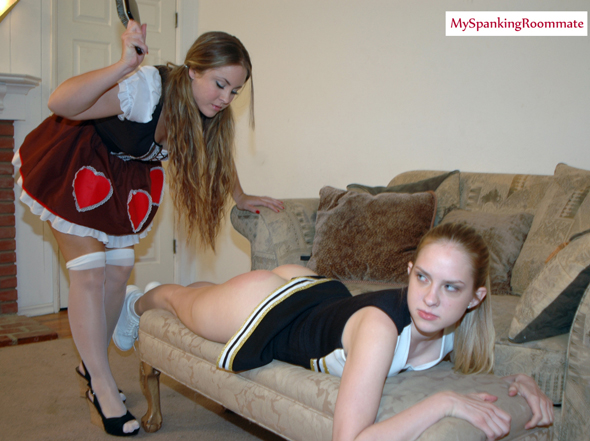 She and Madison went at each other hard on this scene.
Happy Halloween!!
9 Comments
:Amaya Meda, Chloe Elise, Christy Cutie, Halloween spankings, Karina, Kat St. James, Madison Martin, Mistress Crystal, Riley Moore, Sarah Gregory, Spanked Sorority Girls, spanking soap opera, Veronic Ricci spanking
more...