Archive for August 23rd, 2012
by admin on Aug.23, 2012, under spanking in the news
If you have always dreamed about spanking or getting spanked by Clare Fonda, now is your chance.  She will be available weekends, for a month, starting THIS Saturday in Los Angeles, near the airport, at Sanctuary LAX   
 
The above photo is a scene that will appear near the end of this year from one of Clare's last shoots.  She is working out all the time and has a rock hard bottom.  Clare wants to make some "sidebucks" (as she puts it) and is working on some projects with the Sanctuary LAX and will be working under the name Submissive Jamie.  She will be available for sessions – you can check out the website and/or call (310-910-0525) to schedule a time with her.  Anyone who has seen Clare in action will know that she is creative, fun, approachable, hot, and really delivers.
Genesis works there, as well.  Genesis has appeared in a number of our videos, and will be playing a young mom in a soon to be released Sweeties.  She has become quite the hard spanker.

It was about seven years ago that Clare, Genesis and I all went to the Shadow Lane convention together.  This year, no Clare.  So if you want to see her, go to the Sanctuary LAX this weekend!   Have a great time and support a friend at the same time.
6 Comments
:
Clare Fonda
more...
by admin on Aug.23, 2012, under Spanking Interviews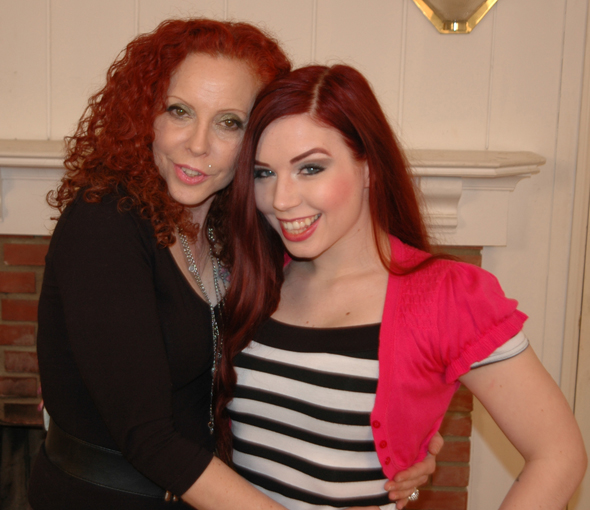 Casting for the Spanked Sweeties site is more than a little bit challenging.  The general idea is to find an attractive young lady who is willing to talk about her spanking experiences and then re-enact them.  And typically (unless someone has so many spanking stories that we can shoot her twice – which has happened a few times), the model can only be shot once for this site.
So the journey is on to find new ladies.  Well, I was searching Fetlife one day when I happened to notice that pinup model Ludella Hahn was going to be in Los Angeles and was looking for Fetish work.  I contacted her and at the time, she had never shot any spanking scenes and wasn't spanked growing up.  She did admit to messing around with spanking a bit, and enjoying it, so she was up for a shoot and suggested doing some role-play spanking scenes after her interview.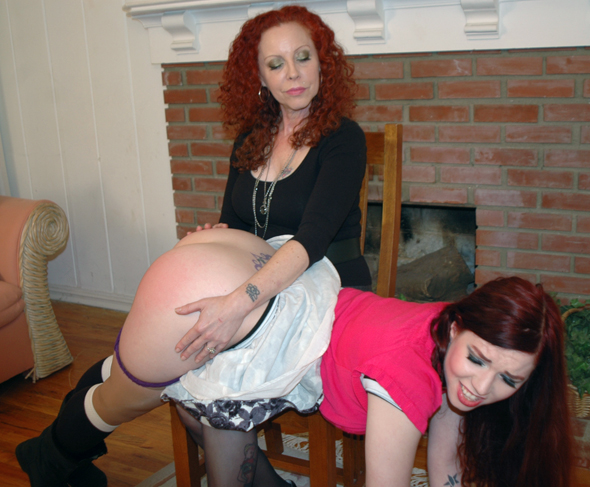 I met Lady Olivia at the Dominion when I was there scouting another lady for a shoot.  I recognized her from so many shoots she had done.  She agreed to play a mom whenever I needed her and she was the perfect lady to pair with Ludella.  They both are red-heads, have similar personalities and Lady Olivia knows how to work with a first time spankee.  The first spanking we shot was more or less a warmup for Ludella, getting a little harder as the spanking progressed.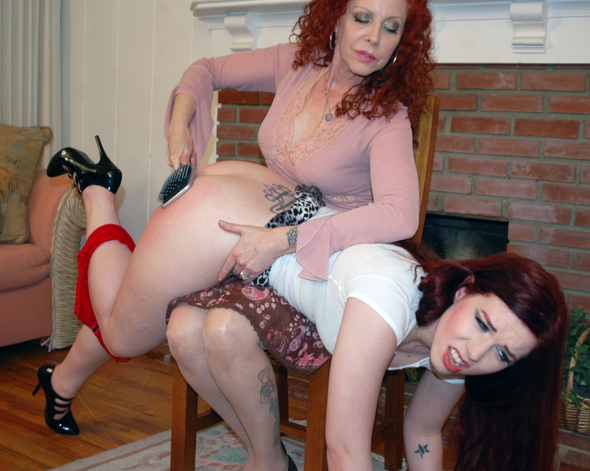 The second spanking was more significant, and even included some with a hairbrush.
Ludella has an amazingly round bottom and she is quite well known for it.  In her interview, she shares some of the lines she has heard guys who comment on her beautiful backside.
This is the first completely Clare Fonda-less Sweeties and I think it does justice to what Clare had started with this site.  I will check in from time to time on the casting process for this site – and I am always welcome any casting suggestions!
6 Comments
:Lady Olivia, Ludella Hahn, spanked sweeties
more...