Archive for July 5th, 2010
by admin on Jul.05, 2010, under Spanking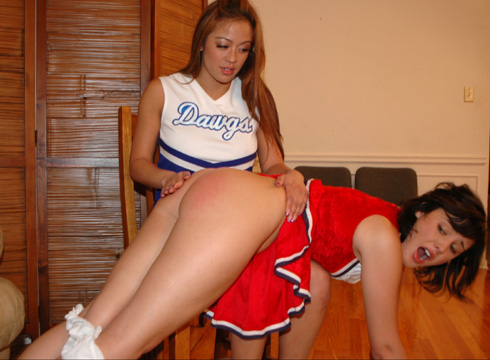 If I am going to be completely honest, I must admit that I really enjoy filming girls making out with each other.  Can't explain it, but it is definitely something that is very, very enticing to film – to watch – whatever.  So there is a section of www.girlspanksgirl.com that features erotic spankings.   The latest shoot for this section was with Brooke Lee Adams and Mia Lelani.  They were both playing cheerleaders – which was cool because they said they WERE both cheerleaders in high school.  My guess is that they were popular with the boys AND the girls.  Here is a case where fantasy meets reality as the girls are both very cute and very much into sex – any kind of sex. 
Sometimes the spankings in the erotic scenes are very light – as the models are known more for their abilities to make out  then to give or take a spanking.  And as you will witness if you check out these very two same girls being spanked by Clare Fonda on www.spankedsweeties.com, they could not take a hard enough spanking to qualify for casting as students in the Exclusive Education 5 spanking shoot coming up in August.  But what you should know if you are a true spanking fan, is that these two girls did in fact take spankings as hard as they possibly could.  So while their tolerance level might be extremely low, be assured that their reactions are very real – they are not acting – their bottoms were feeling the pain.
Brooke confessed that while she was spanked as a child, she hasn't really been spanked since then.  It is not something that she is into in her personal life, but she was up for taking the pain for money and for her art.  And while she looks very much like the super cut girl-next-door – with the slightly plump bottom, she clearly knows how to do a seriously awesome girl/girl makeout. 
After we shot a scene in which Mia spanked Brooke as cheerleaders, we shot a scene in which Brooke spanked Mia as they were getting ready to go to a costume party.  I'll share more about the behind the scenes of that scene in the next week or so, when that content appears on the girl spanks girl site.  We hope to shoot Brooke for a spanked sweeties interview in the fall – as we would love to hear more about the spankings she and her sisters received as children.
Leave a Comment
:cheerleader spanking, erotic spankings
more...