Archive for June 15th, 2012
by admin on Jun.15, 2012, under spanked call girls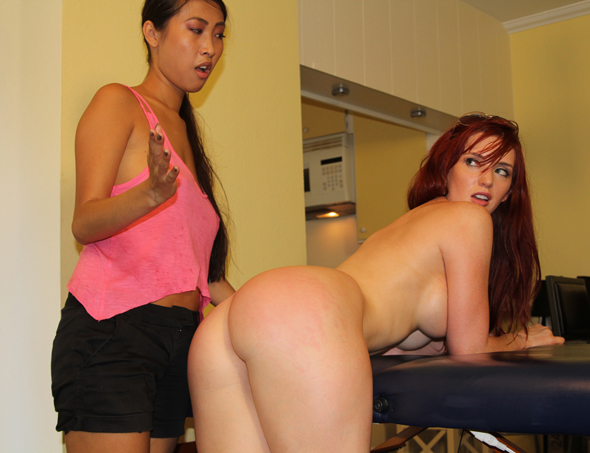 Veronica Ricci has a new scene out on Spanked Call Girls.  In the scene she visits a masseuse (played by Sharon Lee) who speaks only French.  It is a very sexy scene and the communication gap was a little frustrating to work with, but mostly it was wildly entertaining.  This is because Sharon really doesn't understand English.
Veronica had to turn to her smart phone to translate so that Sharon could even realize that she was at a spanking shoot.  Sharon kept showing her test results and asking to see (in broken English) Veronica's test results.  This is common for models who do sex scenes.  They show their sex test results to show they are okay to work with and want to see the other models, too.  We were trying to explain, no sex, just spanking.  But needed the translator to get the message across.  Apparently, "fessee" means spanking in French.
While there is no sex, the scene is incredibly sexy.  Veronica was definitely attracted to Sharon, and her character gropes Sharon's and tries to get sex from her – for a generous tip of course.  Sharon ends up spanking Veronica instead of calling the police.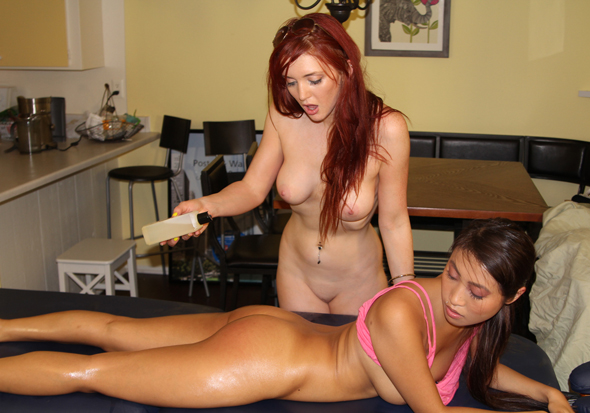 Veronica then overpowers the smaller girl, spanks her and rubs lotion onto Sharon's bottom (which was a financially supported request from a fan) while Veronica mocks Sharon for having a shiny hiney and oily tushy.  Which of course she then spanks some more.
I strongly encourage anyone who reads this blog to check out Veronica's fairly new blog called Spanking Veronica.  And please comment on a few of her posts.  I know when you start blogging it seems like no one is reading and she is definitely not getting many comments, which makes it hard to carry on.
She has some fresh ideas about spanking, she is enthusiastic about it and embraces her roles in her scenes.  She's hot, has turned into a very good spanker – often marking other models – and she can take a heavy spanking on that sweet curvy ass.  Show her some love on her blog.  She is on the road for a while feature dancing, but she will get to replying to comments as soon as she can.
1 Comment
:Sharon Lee, spanked call girls, Veronica Ricci
more...