by admin on Nov.20, 2012, under Spanking
As Veronica Ricci, the web consultant and I get deeper into prepping for Veronica's new site, which will be called Spanking Veronica Works, we have an interesting dilemma and would love to have you guys give us your opinion in the comments of this blog.
I started converting the scenes we have shot so far into Window Media Files (WMV) because that is what I do for all the sites and all spanking sites that I am aware of also use this format.  Veronica protested that these files are not mac friendly, which of course is true.  And she said "not everyone wants to download some fucking software to make it work."  This is also true.
As you can see from this photo below, Veronica likes to clown around behind the scenes (here with Ashley Rose).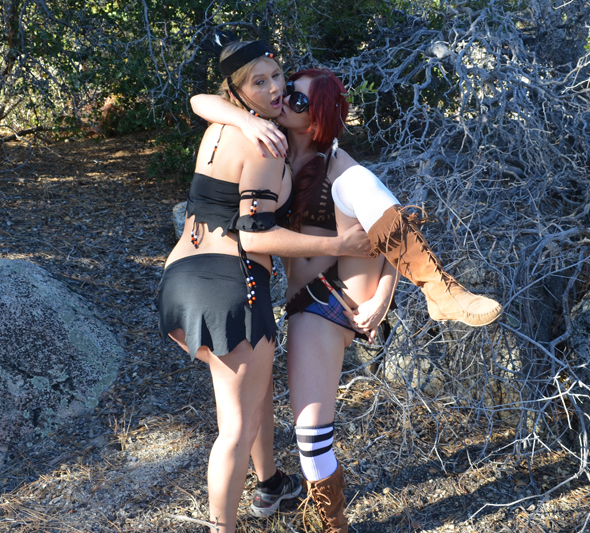 But when it comes to putting out high quality scenes, she is dead serious. So offering the best possible file format is important to her!
She also wants to be ahead of the curve and offer files that work easily on i-phones, which WMV files do not.
So I told her about Mpeg4 files, which work on macs and PCs and i-phones actually look a little better than WMV files in my opinion.  In my experience so far, I have not encountered any problems playing these files.
But I am reaching out to all of you reading who might join this site – are you up for a new file format?  It should play on your Windows Media player or your mac.
As a side note, I believe that Veronica is the mac girl of the year or something like that.  And only a high tech girl such as Veronica would come up with such a sophisticated sci-fi-ey costumes such as the one below (clowning behind scenes with Daphne Sugar Rose).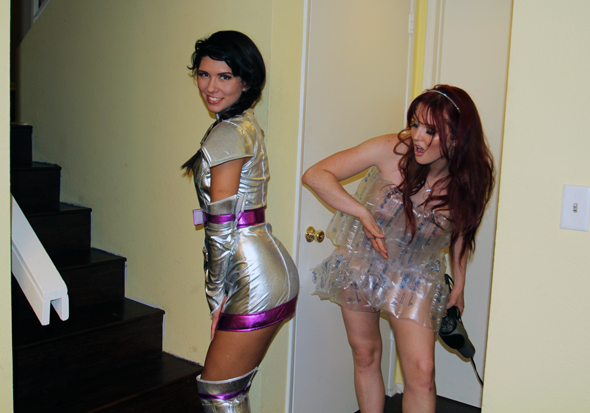 Anyway,  we really want to hear what you guys have to say about this.  Are you good with MP4 files??  To start with, I will probably offer both, but would eventually like to settle into one format.
Your opinions mean a lot to us!
:Ashley Rose, Daphne Sugar Rose, spanking Veronica Ricci, Spanking Veronica Works