by admin on Jul.03, 2010, under Spanked To Tears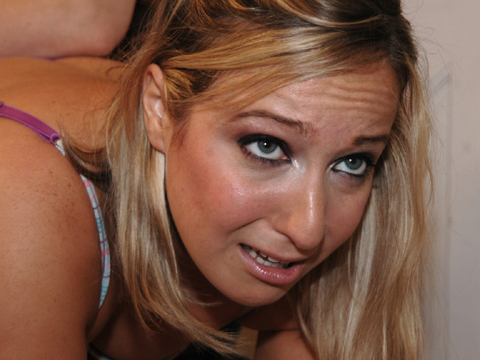 One of the scenes that is presently on the site Girl Spanks Girl features Clare Fonda spanking Lily Anna.  It was quite a long shoot the included several scenes – and Lily Anna had a very sore and red bottom when the shoot was over.  Now you should know this about Lily Anna – she has a fantastic personality – she is strong, yet can be submissive when the scene calls for it.  She is wickedly funny with one fantastic and memorable laugh – yet she was pretty serious during the shoot for GROWING PAINS as it was a long and intense shoot. 
She has a pretty solid tolerance for spanking, but I know for fact that she was pushed to her limits and maybe slightly beyond – which resulted in real tears for the last spanking scene of the shoot.  Clare Fonda is a great top as she has an endless supply of ineresting characters – pimp, letcherous girlfriend, angry sister, scolding aunt, and so on and so on.  But perhaps she excels most at playing the fed up mom who as a last result must spank her daughter.  Lily plays the perfect brat in this scene who even does texting while her desperate mother is scolding her.  Clare brings it hard in this shoot – stopping for breaks only when moving our location from the kitchen to the living room.  So Lily was getting spanked basically for 3 hours with only a few minutes off while the lights were moved from the kitchen to the living room. 
She got it with the hand and with the hairbrush.  After 4 spanking scenes, Clare gave Lily a mouth soaping in the bathroom.  Some models won't do mouth soaping, but Lily is an energetic gamer – though it didn't seem like she enjoyed the mouth soaping at all.  I don't know if Lily is one of the models who is into spanking or not.  Sometimes during a shoot, you can easily tell which model loves it and which model hates it.  It wasn't clear with Lily – but it was clear that she was game to take all that she could for the sake of our art – and she did exactly that – and then some.  This is an amazing series of spankings – if you enjoy the reluctant mother spanking the bratty daughter – HARD – you shouldn't miss this scene.  And keep tabs on Lily Anna.  As a person and as a performer, she is awesome! 
Lily Anna has her own blog.  Please be sure to check it out – just click on her name in this paragraph and it will link you to her blog.
:girl spanking girl, hairbrush spanking, otk, over the knee spanking