Archive for July 11th, 2012
by admin on Jul.11, 2012, under spanking sorority girls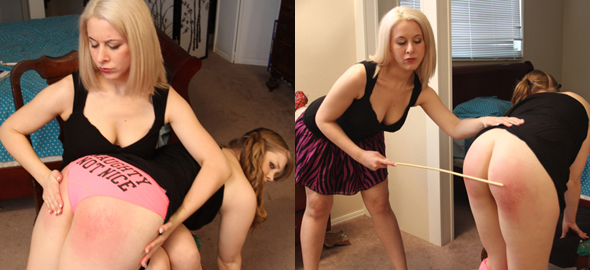 Sarah Gregory and Christy Cutie just had their introductory episode finish running on Spanking Sorority Girls.  It was great to have them both on the site and I will be shooting with them a lot more very soon. Christy plays a pledge and Sarah plays one of the senior girls who will be administering lots of punishments.  Sorority girls are apparently very naughty.  At least in this sorority.  Just kicking off now is an episode with the senior nun, Sister Mary Olivia.
She is played by Lady Olivia Outre, who has appeared in over 300 fetish videos and told me she hadn't done one in a while.  I was honored that she decided to join our site to play the senior nun.  She is super cool and a fantastic performer.  She is also on a brand new mother-in-law daughter spanking clip on Hot Girls Spanked, in which she gives Ludella Hahn's round bottom a nice thrashing.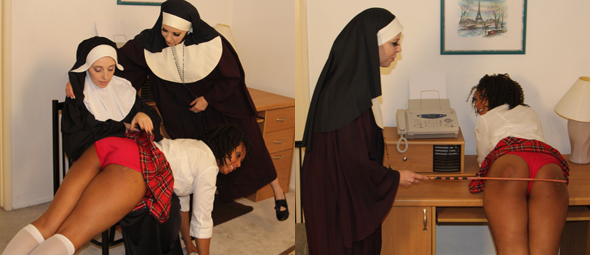 In the sorority scene, Sister Mary Olivia is teaching fellow nun Sister Mary Ginger how to spank the unruly students.  And cane them.  There has bee lots of buzz on Danielle Hunt, who has made the rounds shooting with virtually every spanking site I have ever heard of (and then some).  Well she makes her debut on our sites in this episode, and was very game to get her nice bum caned.
Gotta love how bratty she plays and what a nice caning she takes.  And love her Brittish accent.  In real life Dani is as sweet as can be.  Before the shoot, as she was making her way from Northern California, she texted me that "I just got finish doing a run in San Francisco totally nude."  Gotta love that, too.

Later this month, Katie Jordin makes her debut on the sorority site as Sister Mary Kate.  She spanks Veronica Ricci (wearing a wig and carrying a bottle of Vodka) and then of course Veronica gets a little naughty with the young, hot nun, trying to convert her to the darker side -which of course has more fun.  It doesn't quite work and Veronica ends up getting some whacks with the giant pledge paddle.  Bring on the nuns!!
2 Comments
:Christy Cutie, Dani Hunt, Ginger S, Katie Jordin, Lady Olivia Outre, nun spankings, Sarah Gregory, Veronica Ricci
more...