Archive for July 16th, 2012
by admin on Jul.16, 2012, under Spanking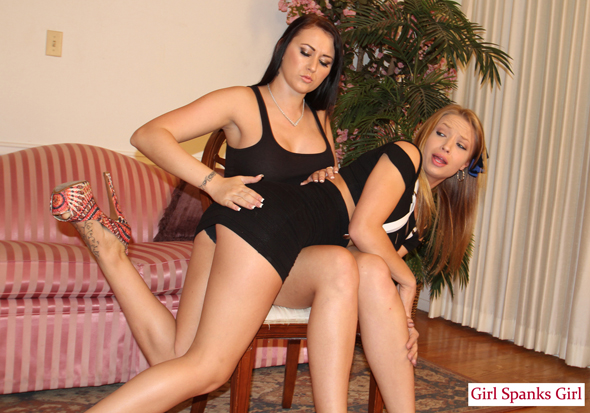 The above photo is taken from the second installment of a series running on Girl Spanks Girl called Naughty Tutor. It is a scene of Alexis Grace spanking Alyssa Branch.
This scene, as most scenes on the sites, was for the most part improvised based on an outline given to the models.  Since Alexis Grace, who plays the tutor, was giving the bad students a regimented punishment based on how late they arrived, she decided to give them a specific number of spanks and have them count each spank.
Now here is where things get interesting.  Some spanking fans love counting.  Some hate it.  I have shot customs in which it was mandatory that the models count, and others where it is mandated that no one counts.  I am in the middle on this.  I like it sometimes, because it can be a form of great embarrassment being made to count and it typically assures a large number of spanks.  It can also be a way to get less verbal models to speak.  On the other hand, it can be distracting to the scene (this is the largest complaint I see).
Counting became a significant plot point in the Naughty Tutor scene, based on the model's decision.  I have been trying to steer scenes away from the use of counting lately, to make sure it doesn't pop up too often and upset the "I hate counting" guys, even though it typically is only a small portion of a scene.
Okay readers, please weigh in.  Thumbs up or thumbs down on counting in spanking scenes?
11 Comments
:Alexis Grace, Alyssa Branch
more...