Archive for July 20th, 2012
by admin on Jul.20, 2012, under Spanked school girls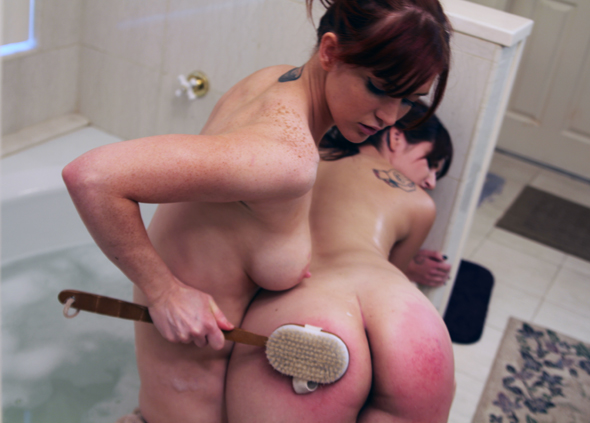 The above photo is for an upcoming scene for the Spanking Sorority Girls site.  Veronica Ricci is spanking Phoenix Askani.
This was shot just a couple of days ago, and was more or less a test to see if Phoenix could tolerate spanking enough to be in the up coming Exclusive Education 7 shoot, which is happening in a couple of days from now.  I plan to have it up by the end of July on the Girl Spanks Girl site.  Phoenix passed the test with flying colors (the color of speckled red to be precise).  So she is in.
Joining Phoenix as school girls in the class of EE7 are  Paris Kennedy (finally she is going to be one of our school girls – we have been begging her for years), Ginger S., Christy Cuite, Riley, Edanya (from the Dominion), Koko (also from the Dominion), Katherine St. James (in what might be her last spanking shoot), and  there will be a cameo from Veronica Ricci.  Principal Lana Miller will be shooting in the Principal's office this year with Porcelain Ass (we will call her Porsha in this scene).  And Snow Mercy will be the teacher, with Sarah Gregory as her Teacher's Assistant.
So that makes for a total of a lucky 13 ladies appearing in this epic.  I will keep you posted as to how it goes in the first year post-Clare Fonda.
I do want to give a shout out to Clare, however, for helping me in MANY ways to prepare for this shoot.
6 Comments
:Exlusive Education, Girl Spanks Girl, Phoenix Askani, Veronica Ricci
more...