Archive for July 30th, 2012
by admin on Jul.30, 2012, under Spanked school girls
Exclusive Education Year 7 is currently running on Girl Spanks Girl, just a week after it was shot.  I will admit that I am still editing it, but I am managing to stay well ahead of the updates.  So far.  It had an interesting evolution that I will share with those who may find this interesting.
Originally, I was going to do something different this year since Clare Fonda has moved away from spanking and she had always been the driving force behind this series.  I thought maybe cheerleaders or strippers at a bar (I know of an excellent bar set to shoot).  But it seemed like I shouldn't just jump ship right away and decided to do another school girl video, just with slight variations.  First, I always thought it would be cool to include the principal's office, as that always seemed to be a place of dread for naughty schoolgirls.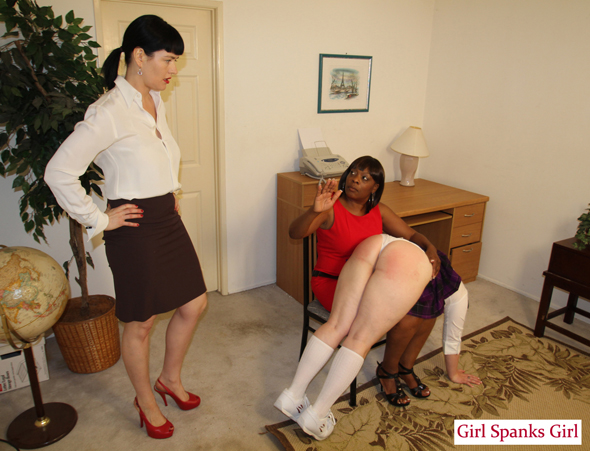 So Lana agreed to shoot at a principal's office, spanking a naughty student, while teach Snow came to the office for a tongue lashing.  To make matters worse for Ms. Snow, she would need to arrive late to the Principal's office and witness the student being spanked WHILE she was talking to the Principal.  Snow agreed to remember this outfit as we shot the scene a few weeks before the big school girl day.
I wanted to include Veronica Ricci in the big schoolgirl scene, and she wanted to do it, but a glamor shoot around the same time as the schoolgirl shoot would not allow for her to get her bottom marked the day of the shoot.  So instead she helped out on the shoot filming some behind the scenes interviews beforehand (they will be included in the profiles section) and she operated the third camera, and she did a little cameo, being the one to run into the classroom and tell Ms. Snow that the Principal wants to see her right away.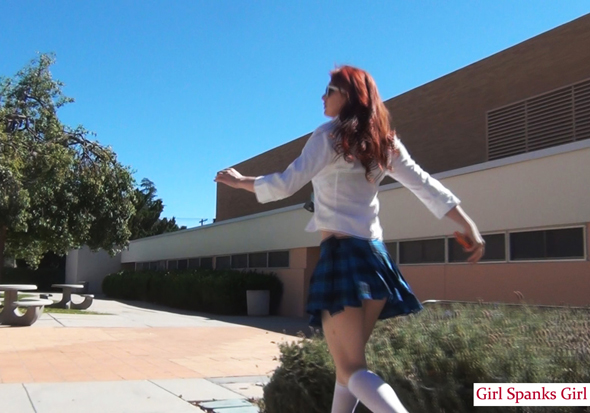 Since Veronica was doing a cameo and we were shooting some footage of her walking around an actual campus for her sorority site, we simply had her duck behind a bush and switch from the red skirt (which the sorority girls wear) to the new blue skirts (the EE7 outfit this year) and do some walking around so that we could include a voice over from Veronica to set up the story.
A few days after the big schoolgirl shoot, we filmed a custom with Veronica, Snow, Kay Richards and a new girl, Cami Smalls.  Fate?  Come on, it had to be.  The custom guy requested these very models and it seemed only natural to shoot a little scene so that Veronica could actually receive a spanking from Snow for EE7.  And it made sense since her character was a big tattle-tale.  This meant Snow had to wear that same outfit yet again (sorry, Snow).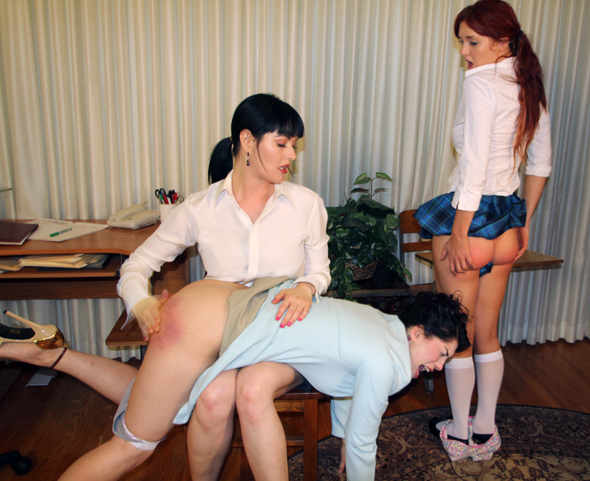 Now Kay of course has been in a few EEs over the years.  And she has been working me hard to be the teacher one of these years.  So she was more than happy to play the Principal's assistant.  Who of course got Snow into some trouble and earned herself a spanking.
So things sort came together for this complex story that includes 15 models and nearly 2 hours of spanking and interviews.
3 Comments
:Kay Richards, Lana Miller, Snow Mercy, spanked schoolgirls, Veronica Ricci
more...