by admin on Apr.16, 2012, under Spanking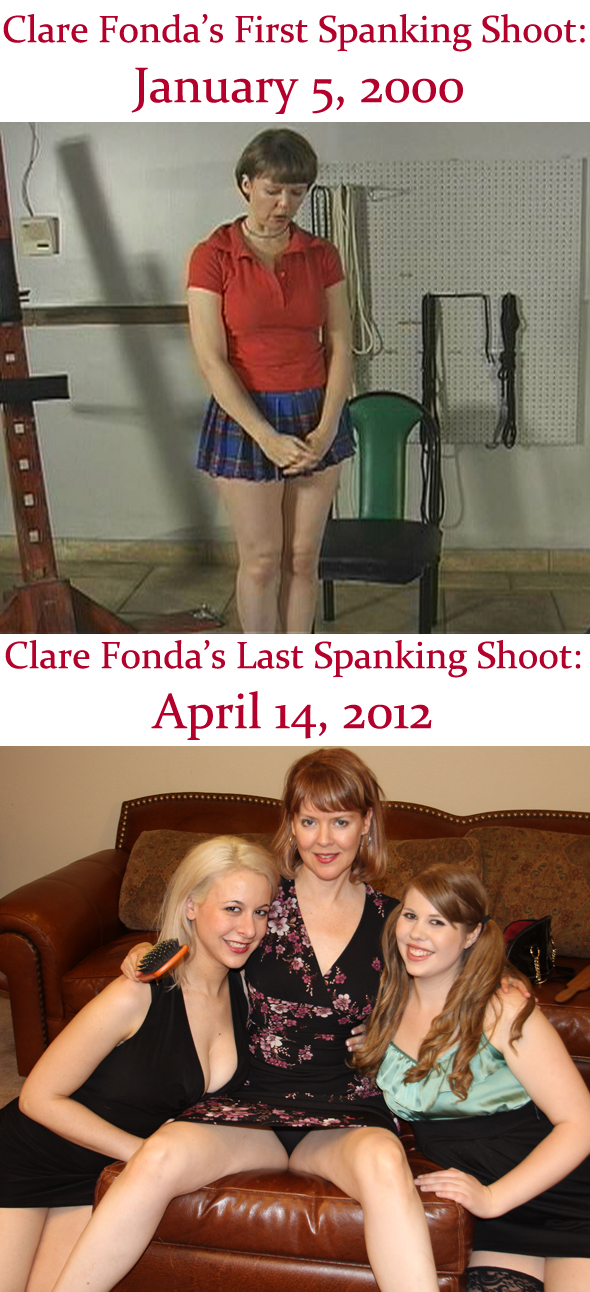 Many of you probably have already heard that Clare Fonda will no longer be shooting spanking scenes.  She has moved toward the other fetishes she produces that include Naughty Diaper Girls and Bratty Step Daughters.
Take a look at the photos above and at the top is Clare in her first ever spanking shoot that I filmed for her over 12 years ago.  That shoot was with a model named Penny.  I have no idea what Penny is doing these days, so tracking her down for our last spanking shoot was not an option.
Instead we shot with two models, Christy Cutie and Sarah Gregory.  Christy was shooting with us for the first time, and she was fantastic.  But it truly seemed appropriate to have a regular like Sarah appear in Clare's last spanking scene.
Sarah is an excellent model, a good friend and a long time supporter of our sites.  She and Clare started to tear up as the scene concluded.  It was a scene for Spanked Call Girls and I will be sure to give a heads up when it is available.
Since we did quite a few shoots the past couple of months, Clare will be appearing in scenes on the various sites for the next few months.  One scene, for My Spanking Roommate, is scheduled to appear on New Year's Day.  So fans can appreciate Clare's outstanding work till the end of the year on some sites.
I will be carrying on with the spanking sites and plan to run them pretty much as they have been going.  Snow Mercy and Lana will be filling in as madams on Spanked Call Girls.  There will be a wide variety of moms being used for Spanked Sweeties.  Girl Spanks Girl will be exactly the same.  The next big schoolgirl shoot, Exclusive Education 7, is scheduled to shoot on July 22nd and come out in mid August.  My Spanking Roommate will be exactly the same, with many great guest stars joining the four regulars of the site, Lilia Spinoza (starring in the current episode), Missy Rhodes, Kay Richards and Madison Martin.  And there is a new site called Spanking Sorority Girls, which just opened last Friday (see one of my previous blog posts for details).
 I am not a very emotional person, but I definitely felt a little sad all day, before and after the shoot on Saturday.  Clare is, in my biased opinion, the greatest spanking model ever.
She is attractive (see from the above photos proof of how she became more beautiful over the years), she is the best there is verbally, she is a good spanker, and she was very maternal to the models and that really plays well when she portrays a mother.  Many times she would add just the right amount of humor to a scene, but never (or rarely ever) too much to detract from a story.  She will be missed in the spanking community.  And I will miss shooting her.
But I will still see her often.  She is a very close friend and she was the best partner ever!  I will shoot for some of her other fetish sites I am sure.  Actually, I am scheduled to shoot a couple of times already.  I am sure I'll mention Clare often in future blogs and even after all of her content has played out – I will let you guys know how she is doing and what she is up to.
So PLEASE do not think of her as "retiring."  She is just channeling her considerable talent and energy into other projects (that I encourage you all to seek out).   And no, I'm not going to end this blog by saying something cheesy like "spanks for the memories."  Or did I just say it?
:
Clare Fonda